Technique of enema's apply
September 7, 2017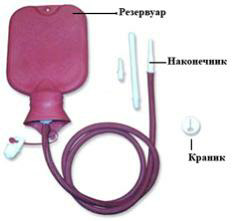 There is necessary to use Essmarch can to apply cathartic enema (patients call it also hot-water bottle because they look similar). There is nipple on the bottom of can, which has junction with rubber tube. Length of tube is 1,5m and diameter is 1cm. This tube has connection with pike (plastic or glass) which is 8-10cm of length.
Pike should be intact and should have smooth edge. There is better to use plastic pike because glass one (if it has any damage) can injure rectum. There is tap on the tube close to pike, which is made to regulate speed of water inning.
There are contrindications for enemas:
Indefinite stomachache

Acute inflammation in anal canal
Rectal bleeding, acute hemorrhoid, rectal tumors, gastro-intestinal bleeding
During procedure patient should lie on the left side with bent in knee legs.

It's better to prepare in advance bowl and towel just in case if patient is not able to retain water. Essmarch sheould be
filled out by 1-1,5 liter of warm water (37-38C) and then should be turned up (1-1,5m).
Then nurse opens the tap and merges air and some water, after this she again close down the tap. Pike should be salved by vaseline and after that should be carefully inserted in anal canal. Than nurse open the tap and water fill out colon. There is helpful massage of stomach, which decrease discomfort. Then when pike is extracted, in some minutes, patient can go to the toilet.