Infrared photocoagulation of anal fissure
Special device (Infrared photocoagulator) is used to accomplish infrared photocoagulation of

anal fissure.
The tip of a probe is fitted with a quarz crystal that focuses the rays of an infrared bulb. Infrared energy determines coagulation of tissue.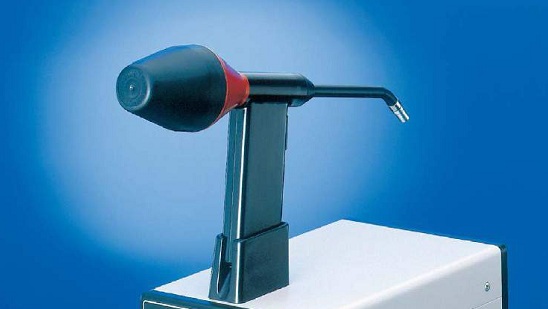 Mostly after procedure of infrared photocoagulation of anal fissure patient can feel some discomfort during several hours. In some cases during some days after coagulation patient can feel some pain, which mostly determined by coagulation in the level of dentate line, which contains many sensory fibers.
Bleeding can occurs in 7-10 days after infrared photocoagulation and is cased by sloughing of necrosed anal mucosa. To decries the risk of bleeding it's better to avoid some medications such us aspirin and other nonsteroidal anti-inflammatory drugs 4-5 days before and after procedure.
As well, we prescribe soft laxatives and high-fiber diet to avoid constipation that can be one of the reasons of anal fissure recurrence.
Complication, which can occurs after infrared photocoagulation:
pain

thrombosis of hemorrhoidal pile
necrosis of hemorrhoid
bleeding
Mostly pain is determined by coagulation in the level of dentate line or under it, which contains many sensory fibers. To eliminate pain we usually use analgetic, which can be combined with anti-inflammatory suppositories. Thrombosis of hemorrhoidal pile can occur just in case the big area of anal mucosa was coagulated. It can be hilled by anti-inflammatory and phlebotonic drugs .
Ask question for specialist